back to journal
My Truest Confession: Writing Without Fear of my Faith
May 8, 2020
---
Running With Nowhere to Hide
I have been running from something for some time now. There is a part of me that knew it. There is another part of me that did not. I am a pretty serious empath and tend to care too much about what people think about me. Though I have been working on letting go of what others think about me, there are areas of my life where the fear of peoples' opinions still has a stronghold.
I've felt called to be a writer, musician, speaker, artist, and traveler. These have been lifelong dreams that I have had glimpses of, but have not been fully realized. I have had many phases of fear moving toward my purpose in these things. At first, it was the run of the mill fear that made me feel like I was not capable or worthy of such dreams.
Then I moved through self-doubt and years of low self-esteem following one of the hardest seasons of my life. Of course, I cannot leave out the many months of laziness, lack of motivation, and Netflix binging. Interspersed in there were bouts of indecision, creative overwhelm, time spent in my counselors office, overcommitment, perfectionism, and endless attempts to start something new. I recently thought this was it – I had figured out my 'elevator speech' and focus point for my blog – only to be frustrated by another creative block. 
Many of you know where I stand in my faith. I believe in God. I believe the Bible is true and authoritative for our lives. I have been a Christ follower my whole life and I am not ashamed of that. Or…was I?
---
Cheese Fest
Growing up in the church I became painfully aware of how cheesy Christians could be. It was like we were trying to pass knock off versions of Girl Scout cookies as the real thing and call you a liar if you found out. Now, if any of the mainstream Christian media/entertainment world is encouraging and meaningful for you, more power to you. It's personal preference.
But when I was growing up dealing with suicidal thoughts and deep familial tension, the weird Bible-study-based-on-the-latest-blockbuster-release-in-order-to-be-relevant just wasn't cutting it. It was cheap and honestly just pissed me off. I had a deep and meaningful relationship with God but the platitudes of people who called themselves Christians just made me ill. God was complex, faithful, beautiful, and near to me. So why was our "Christian Culture" so far from that?
The list goes on from Christian movies, books, conferences, retreats, curriculums, blogs, and more that slapped the name 'Jesus' on it but hovered around surface level at best. It may feel like I am being harsh, and I am. What I see in Scripture doesn't line up with what many Christ followers are offering the world. Not every person and/or church is like this. I have met many wonderful and deeply inspiring Christ followers that I see as role models and mentors. The faith community I am a part of now has been a place of extreme healing.
---
My Way or the Highway
It is safe to say that I am immediately rolling my eyes if someone says, "hey, you should check out this Christian thing". There is some jaded-ness in there I've gotta work on, I know. But when I felt God tugging me to be a writer, musician, and speaker, I TOLD Him that I wasn't going to be a Christian one. That world already had too many ridiculously cheesy and not helpful ones and I didn't want to add to the noise. I am sure at this point God shook His head with a gentle sigh and said, "Alright, go ahead and try it your way".
I tried the trying-to-be-cool-and-subtly-letting-you-know-I'm-a-Christian approach. I felt like I was being genuine. It was only recently that God showed me I was really being Amy Pholer in Mean Girls proclaiming, "I'm not a regular mom. I'm a cool mom. I'm a cool Christian". I laughed and simultaneously gagged a little at what I was attempting. I cannot separate myself from my faith. I see everything through the lens of what God has done for me and what He is doing in the world. I cannot pretend to be 'cool' to the world when it comes to my faith because my faith is not 'cool'.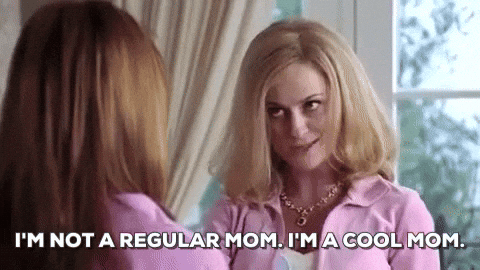 ---
That's Not What I Said
I don't know how many times I have said it, but I will say it again and again and again. God literally saved my life. From suicide. From crushing anxiety and depression. From fear. From giving into addictions. My faith isn't some 'cool' thing I ascribe to and derive meaning from. It is my foundation and the most intimate part of who I am. 
With that harsh yet enlightening discovery, God said to me, "I never asked you to be another cheesy Christian writer. I never asked anybody to be that. I asked if you would be willing to be vulnerable with people, share your stories of victory, eat at the same table, and let people in on what I am doing in your life. I want you to be different, that's why I made you that way. Would you be willing to do that for me?"
I was trying to do this whole thing without including my faith in God. I've been destroyed by multiple churches before so I know what Christian people are capable. I know what people are capable of. I know that there are abuses in the past and present that come from people who share my faith. I was afraid that if I ever truly spoke openly about my faith with others I would be grouped into the same group of people that hurt me most. I was afraid of being labeled as all the negative things that come to mind when you think of the 'crazy Christians' (in a bad way lol). 
---
Truth Hurts
I am human. I am going to make mistakes while carrying my cross of Christ. I am going to say things and make assumptions about people in a way that makes Jesus look like a farce. I am simply on a journey to becoming more like Him even when I mess it up. And it is a looooooong journey of transformation. I have a long list of mistakes that continues to grow, hopefully at a slower rate over time. But my hearts desire is always growth. I know that and do not have to try and convince others of that. My life will have to hold the evidence of the fruit. 
The truth is, people may group me in with the same people I don't want to be grouped with. I cannot control that. But to separate the most intimate part of my life from my deepest longings and dreams while trying to tout it as 'being real' is fake, irresponsible, and not fair to you. I have always promised to be vulnerable and open with people. I cannot do that apart from my faith.
---
New Direction
Overall, I think the vision I had for the Rooted Journal was always what God had in mind. I'm writing this declaration for myself, so that I can set this as a cornerstone for the future. I also am writing this for you. I will be writing more about my faith. You may not believe the same things that I do. You are always more than welcome. But, I also understand if it isn't something you want to participate in either. Either way, there's always room at my table. I may not be perfect, but I am progressing.
I'll be focusing a lot of my writing on faith related topics as well. I still want to talk style, beauty/fashion, home DIY projects, health and fitness, gardening, and more! But I think it is unfair to everyone, myself included, to keep my identity as a Christ follower in the shadows in an attempt to gain a wider audience. Wow, that sounds really ugly writing that out loud. Yet, I promised I would be honest.
Thank you for sharing this space with me. This is who I am and I cannot pretend to be anything else. I think my years of creative blocks and creative overwhelms are proof that running from yourself really doesn't work. Know that I love you and I am keeping you in my thoughts and prayers. May this weird blog confession thing find you in good health and good spirits!
tell your friends